NQS colleagues receive awards for their Long Service
Congratulations to all the staff at New Queen Street and Stanground who received Long Service Awards. Between them they have notched up more than 150 years with some of the longest serving staff having worked for more than two decades.
GP Partners Drs Dan Dhanushan, Ajay Patel and Deepali Prakash took turns to present their colleagues with cards and presents in recognition of their service to the practice and community.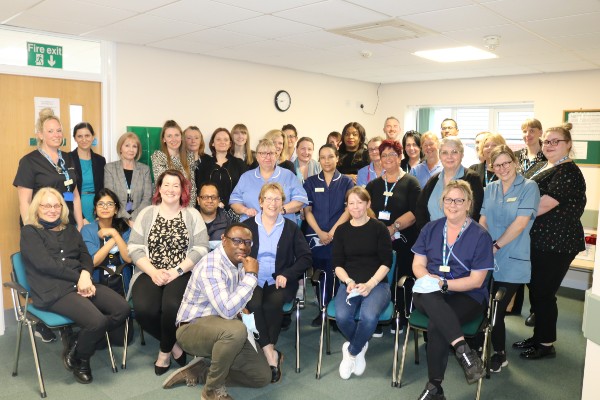 Hannah Cox started as an apprentice in 2015, completing her NVQ business admin qualifications before becoming a part time administration assistant. She has since trained as a secretary, a role which she now carries out full time. She said: 'When I first started working here I was very shy and found it really nerve-wracking using the phones and talking to people, but now it's something I do every day. I've taken on other jobs too: running the palliative care meetings each month and arranging cancer care reviews. My colleagues have really helped me grow in confidence and come out of my shell and I absolutely love my job.'
Emily Chappell first joined as an administrator eight years ago and is now PA to the Practice Manager. She said: 'We have a great team here at New Queen Street and Stanground,  we all work hard and so it was lovely to be appreciated with this Long Service Award.'  
Emily Farrar said: 'I joined the practice in May 2010 as a treatment room nurse having moved from occupational health. My current role is Practice Nurse/Triage nurse. I recently passed my Minor Illness Diploma which took six months, with a week of classroom learning and the rest in practice with fabulous support from my mentor Dr Prakash and doing assignments in my spare time.'  
Rebecca Hill has worked at the practice for 14 years, first a receptionist and now as a trainee Pharmacy Technician. She said: 'I have enjoyed my career progression and a highlight has been assisting with the Covid vaccination programme and starting my pharmacy technician training.'
Sharon Przybyl said: 'I started working at the Stanground Surgery 20 years ago as a receptionist taking over from my late mother-in-law Shirley, who also worked here in the same role. I recently retired as receptionist/team leader and have now returned as a part time receptionist. I have seen many staff and systems changes over the years but still enjoy my job, even through the recent demanding period that Primary Care has faced.'
Wendy Callan said: 'I joined the surgery as a treatment room nurse 23 years ago having come from a Midwifery and Occupational Health background. I have had lots of training over the years and currently do telephone triage /minor illness and chronic disease management. I have had wonderful nursing colleagues over the years, many of whom have become very good friends . Due to the nursing team camaraderie and the support of the administration, reception and secretarial staff, my career has been a very positive one. In Primary Care there is never a dull moment and I learn something new every day! Thank you to the Lakeside Partners for this kind gesture, it is much appreciated.'