Eco group is making a positive difference at Corby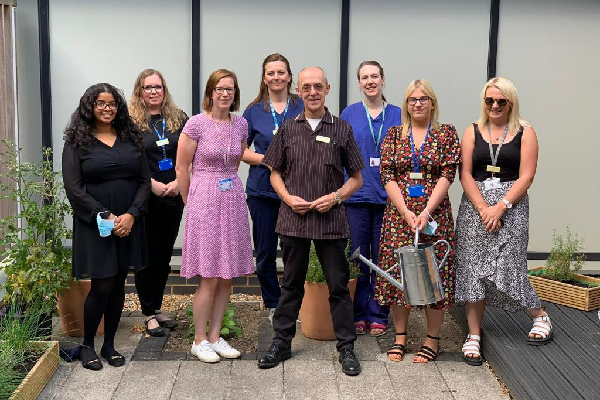 Staff volunteers who formed an 'Eco-Group' at Corby's Lakeside have transformed a little-used patch of ground into a mini-sensory garden.
The volunteers prepared the space by carrying out a litter-pick. The husband of a staff member kindly built and donated some planters which were filled with specimens specially chosen for the sunny conditions. The area provides a small oasis for staff to enjoy at breaks and lunchtimes.
The project is the latest in a series of eco-friendly initiatives the group has focused on recently. 
Founder, Dr Rosaline West, is an enthusiastic advocate of dry powder inhalers which are better for the environment than traditional puffers where medication is delivered using greenhouse gases. She and her colleagues are prescribing the lower impact version where possible and outlining the benefits to patients, most of whom won't struggle with switching. The move to dry powder inhalers (where possible) is an ongoing national initiative which is gaining momentum.
The group has also installed recycling bins into the surgeries at Cottingham Road and Forest Gate and they will look at cutting down on energy usage wherever possible. They will also be asking colleagues to make environmental pledges for the 'Great Big Green Week' in September.
Dr West said:
'We can all play our part, whether that is by prescribing alternative medicine, creating a garden or just remembering to turn lights and computers off at the end of the day. The Great Big Green Week is a chance for us all to make small but achievable changes. This could be going vegetarian or vegan for a week, doing a litter-pick, setting up a carshare or cycling to work. I will be asking colleagues to come up with their own ideas to make a difference and we will be holding a vegan bake off competition for staff. The whole thing is about celebrating positive changes and considering environmental issues as much as possible.'
For more information please visit Great Big Green Week