Hereward staff are awarded for their Long Service
Seven of our team at Hereward Surgery have achieved Long Service Awards after clocking up 140 years' service between them. Many started as part time receptionists and have worked their way through various roles, playing a pivotal part in the smooth running of the surgery.
Office manager Sadie Parker has achieved 25 years, while Practice Manager Tracey Mason has been here for 23 years, closely followed by Lead Secretary Anne Marie Hawkins while Health Care Assistant Julie Geddes is celebrating 22 years' of service.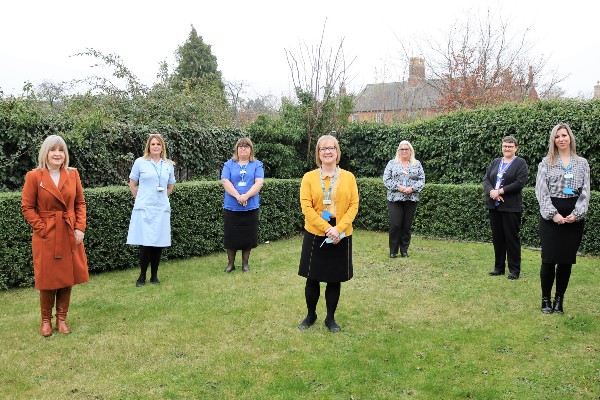 Assistant Practice Manager Diane Woods has been at Hereward for 17 years having initially joined on a work experience placement while Sarah Bricknell and Julie Clingo have achieved 16 and 15 years' service respectively.
They will each receive a commemorative gift of their choice from the Partners of Lakeside Healthcare and they credit the friendly team at Bourne, as well as the variety of their roles, with their long and successful careers.
Sadie said: 'I started in 1997 as a part time receptionist. I really enjoyed it and was always asking for other things to do. I trained in phlebotomy to take blood tests and combined that with an office role and then progressed to office manager. We have a really good team and everyone cares about each other. I loved being patient facing on reception as I am a people person, but overall it is the teamwork that I have enjoyed the most.'
Tracey said: 'I had previously worked in General Practice for 11 years and started the job here as admin for maternity cover in 1999 and never left! After doing a range of admin I became secretary to the practice manager and got more involved in management issues. That led to my role as Assistant Practice Manager in 2009. We merged with Lakeside in November 2018 and I took over the PM role three years ago.
'The best part is the variety as you never know what you are going to face in the day … from patient issues to building maintenance or members of staff who need additional support. It is a hugely busy job with all the collaboration both within the practice, but also externally and with local organisations, however our patients generally appreciate what we do here as a team.'
Anne Marie, who works alongside Sarah, said: 'I also started on reception and when moving over to secretarial was initially involved in the administration of the GPs' special interest (GPSI) clinics for rheumatology and dermatology before becoming full time secretarial. We are so busy, it is a never-ending job and we work closely together. I like the variety and autonomy of the job and we are a friendly team.'
Health Care Assistant Julie Geddes said: 'We do all sorts of tasks including wound care, blood pressure checks, blood tests, dressings and work in the community. I do like the variety and the fact that I am not sitting in front of a computer all day. I have known many patients for years and I do feel supported in my career and have done lots of training courses on different skills and procedures.'
Diane Woods, Sarah Bricknell and Julie Clingo each started as evening receptionists:
Diane said: 'I came here for work experience and then started full time when I left school. I have worked in all the different departments and, after about ten years, thought I would like to go into management and maybe be a Practice Manager one day. I work closely with PM Tracey and her knowledge is incredible.'
Sarah said: 'It is a brilliant team and we get on very well. We work on tasks from GPs, letters to patients, referrals, queries, plus lots of other things so you do need a good eye for detail. I love it here, particularly the variety of work I do from day to day.'
Julie Clingo is now an administrator sorting out work rosters and room rotas, as well as reception duties. She said: 'Doing rotas is like doing a jigsaw. You have to think ahead and I try to work everything out at least a couple of weeks in advance. I love my job and I love the people I work with. We get a lot of good feedback from patients so we are obviously doing something right.'