Jane is championing carers at Headlands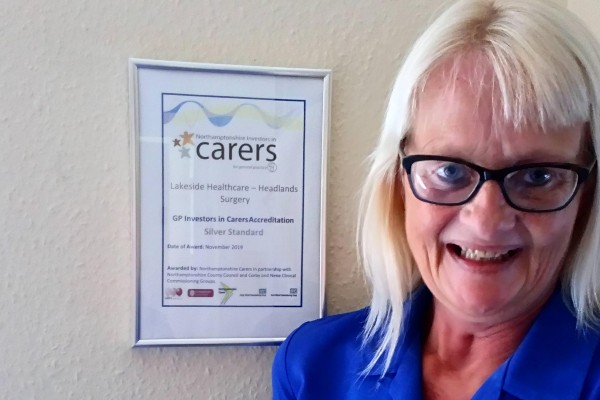 Jane Reynolds, from Headlands Surgery, is currently working towards the Investors in Carers Gold Award in her role as Carers' Champion. 
She is passionate about supporting carers and updates the surgery's register, sends out information packs, phones people, particularly if they are elderly or isolating, and is planning to reinstate meetings when social distancing restrictions are relaxed. 
Jane's work has meant that the surgery has received Northamptonshire Investors in Carers Silver Accreditation and she is now working towards the Gold award. 
She said: 'I was previously a team leader in a care home, so it is a real privilege to do this as I know that carers need additional support and information. We regularly ring to check that they are OK and to see if there is anything that they need. We also send out information about Northamptonshire Carers and there is a dedicated carers board in the waiting area.  
'There are over 200 carers currently registered with the surgery and we are hoping to introduce special groups for young people as it is not just the elderly who need support. I enjoy talking to patients as we are there to help and they really appreciate it. It makes people feel like they are being cared about as well, particularly as winter approaches. Being a carer can be very demanding so we, as a surgery, will do whatever we can to offer help and support.'
To find out more about Northamptonshire Carers visit: Northamptonshire Carers Association (northamptonshire-carers.org)