Lakeside Corby team welcomes MP on factfinding tour
The team at Lakeside Corby  welcomed Corby and East Northants MP Tom Pursglove on a recent fact-finding tour.
The hour-long meeting, hosted by Non-Executive Director Dr Sanjay Gadhia, Hub Manager Emma Downs and Dr Martin McGrath was an opportunity for constructive discussion around the issues and pressures that patients and GP surgeries are currently facing.
Afterwards Mr Pursglove said: ' I had a really useful meeting with senior representatives from Lakeside Healthcare in Corby to discuss the concerns that have been raised by local people trying to access healthcare appointments. As I have maintained throughout, this is not a blame game – our fantastic healthcare workers have been working incredibly hard throughout the pandemic and my thanks go out to all of them. Nonetheless, it was really useful to discuss the concerns that have been raised with me to further my understanding, to gain their insight, and to see where we go from here in addressing them.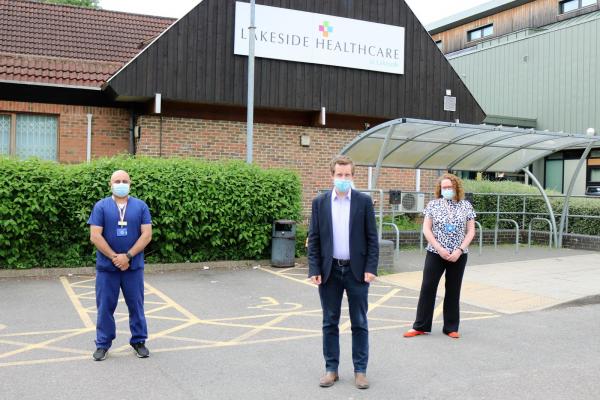 'As I suspected, over the course of the easing of 'lockdown' restrictions, demand for appointments has increased at a rapid rate as people rightly seek to address health concerns they may have been putting off seeing to and unfortunately, this has meant that appointments have been booked up very quickly. The surgery are doing their best to address this demand and a new telephone system is being installed to better triage the requests coming in, which should also no doubt help to address some of the issues that have been raised around call waiting times and difficulties getting through, both of which I know can be hugely frustrating.  
'They were also keen to highlight that although many people are keen to see their GP, this may not always be the best or only option for addressing the healthcare concern someone may have and it is important to remember when seeking an appointment that often, other types of healthcare practitioner are well placed to assist, as the team have a wide range of specialisms.  They also recognised that the greater use of technology - one of the key areas of learning during the pandemic - presents opportunities to provide better and more convenient services for some patients and they are looking at how this opportunity can be appropriately harnessed going forward.  As ever, there is also a big role for community pharmacy to play and in some cases the excellent Corby Urgent Care Centre. Their message was arguably one we have heard before - 'right care, right place, right time, right person'.  
'Clearly, there is not a quick fix solution to these challenges which have been heavily influenced by the unprecedented circumstances we have found ourselves in over recent months - however, I will continue to communicate and engage with Lakeside Healthcare, other local GP surgeries, NHS Northamptonshire Clinical Commissioning Group and NHS England, as they look at ways of addressing the situation as best as possible. That includes ensuring that our area is able to cope with the inevitable pressures of new housing growth - a point I have, and continue to, press hard on in discussions around strategic planning.  Our infrastructure really must keep pace.  I will also gladly help push for any further resourcing deemed to be required.
'Following this meeting, my dialogue locally continues and I am really grateful to all those who have shared their experiences with me over recent weeks.'