Michelle is our musculoskeletal First Contact Practitioner at Headlands Kettering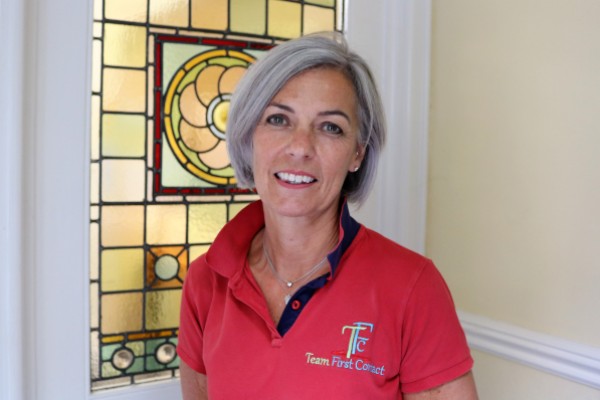 Chartered physiotherapist Michelle Pullen has been working at our Headlands practice once a week for the last twelve months, as First Contact Musculoskelet Practitioner (FCP). Her role is to act as the first point of contact for patients with acute musculoskeletal (MSK) problems (less than 12 weeks history e.g., neck, back and joint problems, muscle, or ligament strains) She has the experience and skills required to assess, diagnose and recommend appropriate treatment, or onwards referral, for MSK problems.  Her role is to triage rather than treat patients. By having a FCP at the surgery appropriate patients can be offered a specialist alternative to booking with the GPs, thereby freeing up the doctor's very busy lists.
Michelle is a part of Team Rehab uk Ltd, a company providing FCP and private physiotherapy in the Northampton, Kettering and Corby area and has worked as a chartered physiotherapist for over 30 years, since qualifying at the age of 21. Michelle said: 'Over the years I have had my own private practice as well as working in both hospital and GP settings. I genuinely love my job (most of the time!) helping patients understand their injuries or conditions and building relationships with staff and colleagues and working as part of a team.'  
Initially patients are assessed over the telephone, where Michelle will ask lots of questions about the patient's problem 'how it started, when it started, what makes it better or worse, does it alter during the course of the day, is sleep affected and so on, the patient will never have thought about their problem so much!' Michelle will then get the patient to do some simple movements and tests which, when considered alongside what the patient has described, should allow her to formulate a diagnosis.
'Very often patients will simply need some advice and perhaps some exercises to help speed up the resolution of their problem, so I can send this information directly to them at the end of our conversation. Sometimes a short course of medication may be helpful or further investigations may be indicated, or a course of physiotherapy treatment may be required, in which case I liaise with their doctor and we can get this organised.'
Occasionally it may be helpful to see patients face to face after their telephone appointment to confirm their diagnosis and Michelle will organise this, although most of the time this isn't necessary. 'I think patients may be a little sceptical initially about their appointment being over the phone but hopefully by the end of our call they feel reassured and are confident that they are receiving appropriate intervention and something is being done to help them.'  
When asked what type of conditions she sees most often, Michelle explains there is a pretty broad selection at Headlands. 'However, we always encounter low back issues and coming out of lockdown earlier in the year meant lots of people had been working from home, not necessarily with a good work station set-up.  Working on laptops, sitting on sofas and not getting up much during the day will certainly take its toll on our backs along with the 'Covid stone' that many people acquired.
'Good, general advice for keeping joints healthy would be to try to keep fit and active, walking is a really good activity for back health; avoid long periods of sitting by regularly getting up and changing your position; keep an eye on your weight as the heavier you are the more load you are putting through your musculoskeletal system. It is about making positive changes to keep yourself active and mobile, but be sensible and start gradually.' 
If you feel your problem is musculoskeletal and would benefit from speaking to Michelle then discuss this with the reception staff when you call and they can advise you accordingly and book you appropriately.