Meet South Peterborough PCN's new pharmacy team
The South Peterborough Primary Care Network pharmacy team has been boosted by two new members recently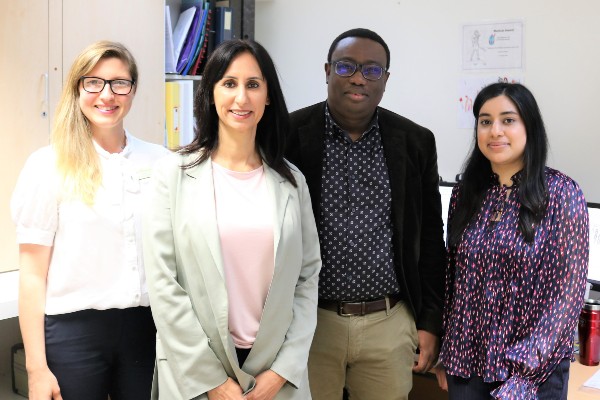 Barbara, Abay and Nazish are pictured with Lakeside's Group Lead Pharmacist, Arvind Thandi
Senior Pharmacist Abayomi Adeluwoye and Clinical Pharmacist Nazish Perween have joined Pharmacy Technician Barbara Zub. They provide pharmacy support to five local practices including Lakeside Healthcare at Yaxley, where the team is based.   
Abay moved to Yaxley from Lakeside Healthcare at Whittlesey. He said: 'I started as a Pharmacist with Boots 16 years ago and took on several roles, the last being at the New Queen Street store where I was for ten years. While with Boots I took the opportunity to complete my independent prescribing course and when the Clinical Pharmacist role started in General Practice, I thought that was a great opportunity to transition into Primary Care where you are more involved in the patient care and clinical decision making rather than just being at the tail end of care as a community pharmacist. 
'I decided to join the PCN as a Senior Pharmacist because I believe I can add value in terms of my previous experience and also help those who are new in the role to embed sufficiently within the Primary Care team, allowing us to demonstrate the value of the Pharmacy workforce alongside 'traditional' clinicians. 
'The most enjoyable part of the clinical Pharmacist role is having that clinical input in the patient's journey by offering advice or information which makes a difference in their care. Ultimately, we are all in the business of looking after our patients and making them feel better.' 
Nazish Perween qualified as a Clinical Pharmacist in 2018 and completed her prescribing diploma last year. She joined the team two months ago, moving to Yaxley from a similar PCN role.  She said: 'Previously I was in a different practice every day so it was hard to track your work and see your progress. When you are based in a surgery all the time you learn a lot and I have definitely learned so much since being here. I have worked with the district nursing team, and it is fantastic to see what they do and how we can help them, especially with palliative care patients. 
She uses the online consultation platform, Doctrin to deal with medication queries and says it is a valuable tool: ' It is easy to have those instant conversations with patients and Covid taught us the importance of technology. It is a really convenient way to bring healthcare to patients. 
'The team here is really welcoming. Yaxley is such a fantastic place. I feel really looked after. It is a really calm atmosphere and the admin team here is brilliant.' 
Barbara is the longest serving member, having worked at Yaxley for a year.  She was a community pharmacist in her native Poland, a role she continued on moving to the UK several years ago. She has also worked in research for a large pharmaceutical company before moving to Primary Care. 
She said: 'Working here has allowed me to take the experience from my community pharmacy work, clinical research and quality improvement and combine them to help people look after their health and welfare. I find it inspirational that we work on prevention as well as treatment.  
'It is about helping people to become more accountable for their health and directing them to colleagues who can support them, such as with issues including losing weight. We can help people achieve their goals rather than simply prescribing medicine, so it is about having the tools and a multi-disciplinary team to draw on. It is very inspirational. I am looking forward to working with Abay and Nazish and seeing how we develop. It will be exciting building a whole new team, seeing what the surgeries that we serve need and developing our service to them.'