Great start to online consultations at St Neots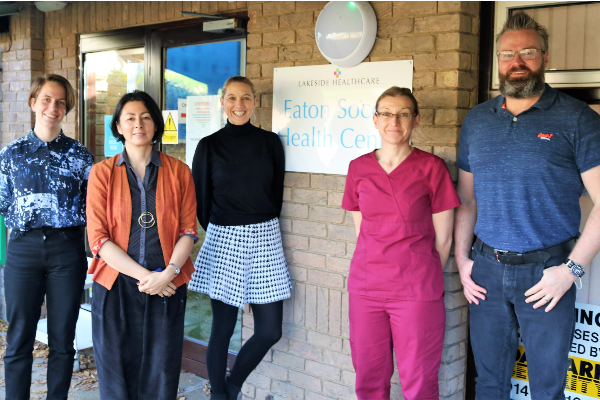 Doctrin, our new online consultation platform launched for St Neots patients today with Group Lead Nurse Kerry Gardner demonstrating the system to clinicians.
St Neots is only the third site in the UK to roll out the platform, which is accessible 24/7 from electronic devices and through the surgery website. Doctrin, which is widely in use in its native Sweden, has a range of features including healthcare questionnaires and signposting users to relevant health and social care advice. It offers our patients an alternative means of contacting the practice and we anticipate that demand will grow as more patients access it using their NHS log-in details.
The Lakeside central and surgery managers have worked closely with Doctrin to ensure a smooth roll-out. Hub Manager Sarah Parren said: 'As with any innovation it takes planning and preparation to ensure we have everything in place for patients and we are hopeful this will provide better access for those who wish to contact us using this technology.'  
Doctrin's Customer Success Manager, Viktoria Linden, travelled from Sweden to visit our St Neots surgeries. She said: 'It has been great working with the team to implement another successful Doctrin launch in the UK. We are seeing very positive patient feedback from day one as patients can clearly experience the benefits, including getting in touch at a time to suit them and having their healthcare concerns addressed without necessarily having to travel to the surgery. The Lakeside staff are really engaged with Doctrin and we look forward to seeing how St Neots patients respond to it over the coming weeks and months.'