Oundle colleague receives Hug in a Mug 
Well done to Annie Boyce who was this month's recipient of a 'Hug in a Mug' at Oundle. 
The initiative celebrates the great work of colleagues. Each month a member of the team is presented with a personalised mug filled with mini goodies and they go on to nominate the next recipient.  
This month's recognition goes to Health Care Assistant, Annie Boyce, who started with us in December 2021.  Since she joined Annie has had fantastic feedback from patients and has become an invaluable and well-loved member of our team. Annie has organised staff wellbeing initiatives such as a monthly lunch meet-ups and a Thursday walking club.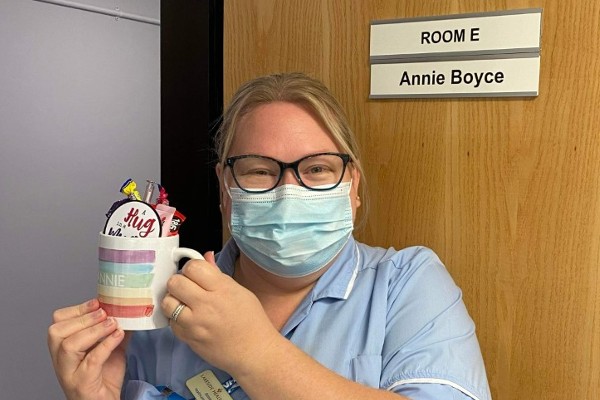 One recent compliment that we received from a patient regarding Annie really stood out-  
"I just wanted to pass on my thanks to Annie today, who is really personable and a great asset to the Oundle Team. I've only had positive experiences since joining the practice as a patient several years ago, but today Annie stood out as a real people person and clearly is in the right place to keep giving and doing a role that you can see she loves. I felt so at ease and heard. Annie was professional but made me feel relaxed and continued in building that trust in the service there. Such a tough area to be part of but you all still smile! Both today and my visit a couple of weeks ago, I received a great service and felt listened to and that time was given to me, when I know you all juggle a huge list and demands. Thank you very much.'  
Annie is the third member of staff to receive a Hug in a Mug award- the first went to Kirsty Knight our Patient Service Team Lead who was heavily involved in the Section 106 building work that was completed in our Reception and Administration areas. The second award went to Charlotte Burrell for all her hard work in our Dispensary.