Oundle colleagues receive Long Service Awards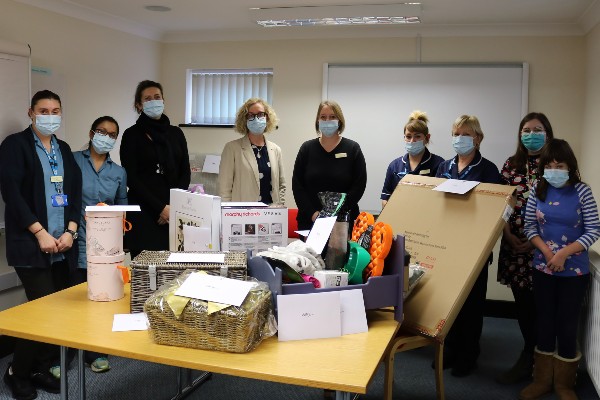 Congratulations to our colleagues at Oundle Surgery who have received Long Service Awards for combined careers totalling 198 years!   
They were presented with cards and presents at a gathering just before Christmas. Practice Manager Carol Beesley congratulated them on their work and achievements. They each chose presents including hampers, electrical appliances, embroidery kits and even a pet bed!
Mrs Beesley said: 'I'd like to thank you for all your hard work. We haven't done anything like this before and the gesture from Lakeside is really nice. At the site, proudly, we have got staff who have been here a very long time. As a Practice Manager I feel very proud of that and the team, so thank you from me as well.'   
Sharon Chambers, a secretary, said: 'I was on reception for three years before taking up my current role. I love it here and love my colleagues. We work so well together.' She chose a large wall clock to commemorate her time at the surgery.   
Kathryn Camp received a Whittards hot chocolate hamper. She first worked sorting the post before moving onto scanning where she codes medical letters and updates patient records. She said: 'This year has been a challenge but everyone here is very supportive.'   
Roz Talbot, is a prescription clerk and she has been at Oundle for 12 years: 'I like working with the team and you build up a rapport with the patients.' She chose a picture frame and champagne saucers as a gift.   
Nella Aioanei chose a coffee machine to mark her career in the dispensary, where she is now supervisor. She said: 'I always wanted to work at a surgery. It is like a family. Since we have been part of Lakeside we are now part of a bigger family.'   
Congratulations to all team members who received awards
They are:
Lynne Francis – 21 years  
Sophie Clarke – 21 years  
Gill Bailey – 21 years  
Sharon Chambers – 19 years  
Karen Davies – 17 years  
Liz Hankins – 15 years  
Sarah West – 13 years  
Kathryn Camp – 12 years  
Roz Talbot – 11 years  
Brenda Wardiell – 11 years  
Nella Petronela – 8 years  
Katie York – 7 years  
Louise Gallagher -  6 years  
Polly Jackson – 6 years  
Leanne Thomson – 5 years  
Keren Madder – 5 years