Our St Neots practice manager loves the variety of her role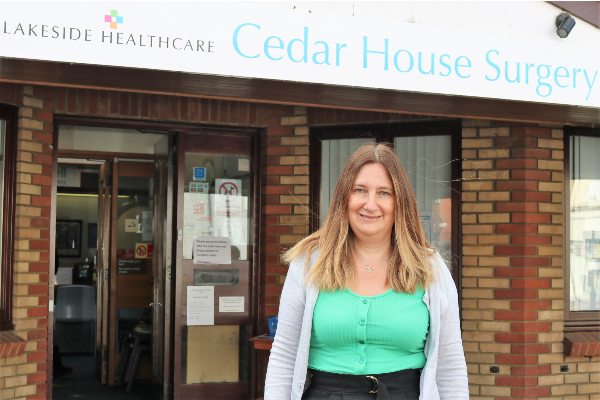 Sarah Parren, our Practice Manager at St Neots, loves the variety of her role and appreciates the support of the close-knit team of managers who help her run the multi-site practice. 
Sarah joined Cedar House in 2005 as a receptionist, then worked her way through administrative and leadership roles before stepping up to Practice Manager five years ago. Sarah's focus is on patient care, keeping the staff positive and driving innovation and improvement where possible.   
Sarah said: 'I have been in Primary Care for 15 years and the past 18 months have definitely been the most challenging but I'd like to assure patients that we are still committed to providing the best service possible given the huge demand that Primary Care providers are facing at the moment. 
'We are excited to be introducing Doctrin, an online consultation system which will give patients an alternative way of contacting the surgery. It is open 24/7 although our team will respond within surgery hours. It is just another way of giving patients more choice and the more people who use it then the more the phone lines will be freed up for patients who are not so confident with technology.  
'Feedback from patients already using the platform at another Lakeside surgery has been hugely positive with a 90% approval rating, so Doctrin is a really exciting development, both for us and our patients and we are working hard to ensure a smooth launch in mid-November.' 
Sarah's roles over the years have encompassed administration, business support and management and has worked closely with many colleagues for years: 'I loved it from day one as I like to be busy and I like the variety. I volunteered for everything as I like to know how things work. The more you do the more you get asked to do! 
'I care about the staff and have known two of the GP Partners for the best part of 15 years. We have been through the highs and lows together and that is why we work so well. We are definitely part of one big family and now have a full team of admin staff so that is a huge bonus, both for our team members and for the patients. 
'I like to be empathetic and I really care about the patients … I always want to treat people how I want to be treated and, in the main, people appreciate that we are all human and trying to do our best in challenging times.'