Shannon's surprise bouquet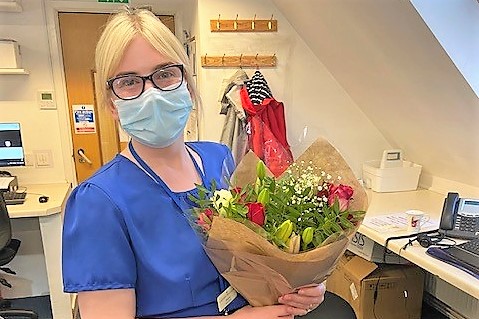 Lakeside receptionist Shannon Raher received a surprise bouquet from a grateful patient during her final month in the role. 
Shannon's prompt escalation of the case meant that the patient was given an emergency appointment which led to him being transferred to hospital for monitoring and further treatment.
He fortunately made a full recovery but he and his wife were so impressed with the response they received from Lakeside staff that both Shannon and the doctor received gifts as a thank you. 
Shannon said: 'Unfortunately I wasn't there when the patient's wife came in with the bouquet but I contacted him to say thank you and ask how he was doing. He wanted to thank us basically for our support. It is very nice to receive something as it does make you feel appreciated and knowing that you made a difference. ' 
Shannon has since left her receptionist role to take up her 'dream job' of social prescriber, where she will continue to make a difference to patients. Social prescribers work with individuals and community agencies to offer 'holistic' care to patients. This may include helping them with issues including mental health, finance, isolation, diet, exercise and all-round wellness. 
Shannon said: 'I was looking at progressing my career and obviously I was aware of the team of prescribers. It really interested what they do and how they helped people. It is very holistic approach helping people's wellbeing. That is something that I really wanted to do so it is the perfect role for me. I applied for it and was ecstatic when I got offered the role. It is a fantastic opportunity.  
'I am undergoing training, going out into the community and seeing where we can refer our patients to. I am shadowing the other prescribers because obviously everyone has their own ways of working so it is quite nice to get around to meet the team and see how they work.' 
Shannon already has a Level 2 counselling qualification which she completed as a coach with the Steel Spirit cheerleaders. 'I do have an interest in counselling and Cognitive Behaviour Therapy so that should be very useful in the social prescribing role. It is about giving that time to the patients, we have time to chat and find out what matters to them .I enjoy talking to people and I do like making a difference so it is nice to be in this role where I can help and support people. It's a very rewarding job.'