Staff training session on new online platform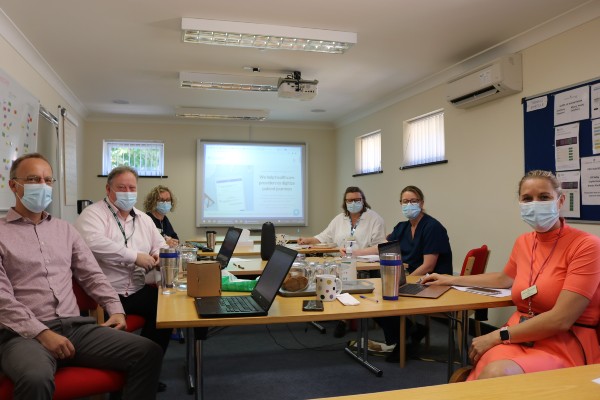 From left: Lakeside project officer Justin Wilkinson, Doctrin managing director Craig Oates, Oundle practice manager Carol Beesley, Oundle staff and Lakeside Group Lead Nurse Kerry Gardner.  
Clinical and administrative staff at Oundle surgery enjoyed hands-on training on the new consultation platform which is launching imminently.   
Doctrin is an easy to use and navigate online platform which triages patients to the most appropriate healthcare professional. Its features include healthcare questionnaires, signposting to other services and personalised patient data dashboards.
To access the platform patients need to be registered for the NHS app, then they can sign in online or through the practice website.   
Oundle staff were joined by Craig Oates, the Managing Director of Doctrin UK, who has been working closely with Lakeside staff to implement the platform. The Oundle team will be supported by Lakeside's Chief Medical Officer and Group Lead Nurse over the next few weeks while the system is embedded.  
Practice Manager Carol Beesley said: 'Doctrin is hugely exciting for us as a practice as it gives our patients another way of getting in touch with us. We are encouraging all patients who are able to to sign up as it is a convenient and responsive platform, however I'd like to reassure those who are not confident or used to technology that we can still be contacted via all the usual means. 
'The team is looking forward to the launch and we are looking forward to seeing what our patient uptake and response is over the coming months.'