Tara's new job role
Tara O'Brien is continuing her long career with Lakeside Healthcare with her new role as Project and Business Management Support Officer.
She will be providing support for the ongoing delivery of Partnership-wide and Practice / Hub / PCN specific projects with Project Officers Simon Beesley and Justin Wilkinson. Other tasks will include developing and managing preferred suppliers and organising contracts.
She first started as a receptionist at Cottingham Road Corby, and became a Finance Officer in 2004, moving to the Central Team at Exchange Court where she worked in the finance team before her latest move to a newly created role.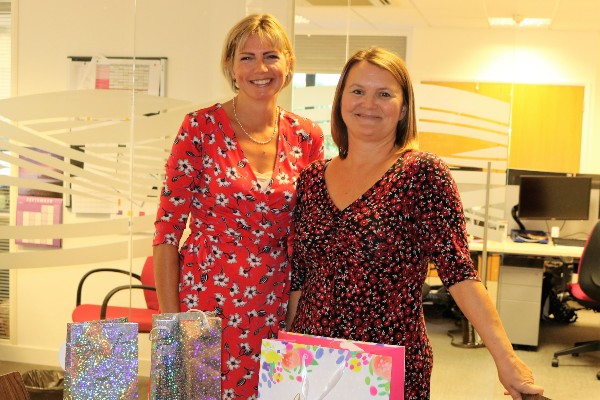 Tara (right) receiving her gifts from Finance Manager Rachael.​
She said: 'As I have the finance and accounts background that will help when it comes to project work. This role will be really interesting and will add another string to my bow. I am most looking forward to the challenge and learning new things as that is obviously a whole side of the business that I have not experienced before. I really enjoyed working in finance but I still see my old colleagues as they are just down the corridor!'