Use the online risk checker for Prostate Cancer
We're backing Prostate Cancer UK & NHS England's new campaign, encouraging men to use the 30-second online risk checker.
Prostate cancer is more common than you think. It's the most common cancer in men. 1 in 8 men will get prostate cancer.
That could be a dad, uncle, brother, partner or best friend. It's why Prostate Cancer UK and the NHS have joined forces to launch a campaign to find the 14,000 men who have not started treatment for prostate cancer since the beginning of the pandemic.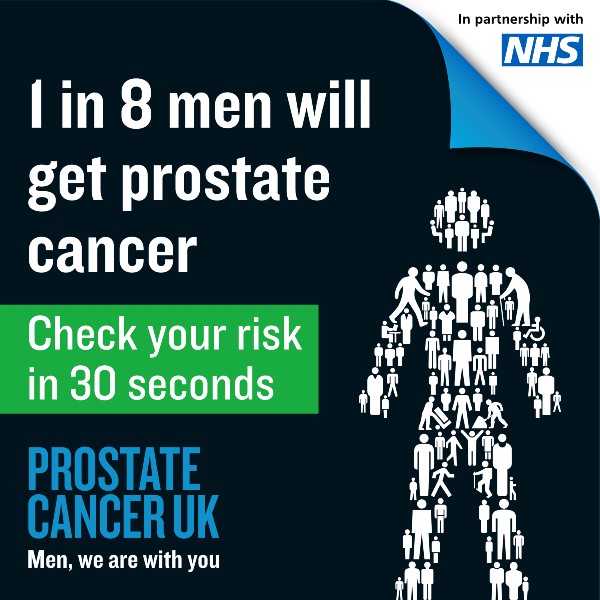 New figures show that prostate cancer accounts for a third of those not treated for cancer compared to before the pandemic. Prostate cancer is very treatable if caught early. It's important for men to know their risk because early prostate cancer often has no symptoms. Joe Appiah, from Bromley, was diagnosed with prostate cancer during the pandemic. He didn't have symptoms. 'I'd seen adverts about prostate cancer, but I didn't know how badly black men were affected, or how to get a test. I didn't have symptoms and wasn't aware of any family history. So until my friend told me to speak to my GP, I didn't think about it – especially with Covid too. My friend saved my life. Thanks to him it was caught just in time.'
Please check your risk and share the thirty-second online risk checker with loved ones.
It takes 30 seconds to complete and could save lives.